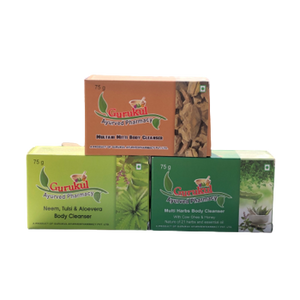 This set includes one Multi Herb Body Cleanser, one Multani Mitti Body Cleanser and one Neem,Tulsi and Aloevera Body Cleanser. All soaps are prepared with natural ingredients and are great for the skin and body. 
The Multani Mitti Body Cleanser is great to fight acne and pimples. It deeply cleanses the skin and evens out the tone to brighten the complexion.

The Neem,Tulsi and Aloevera Body Cleanser bring with it anti-inflammatory, antifungal, antibacterial and antioxidant properties. It's great to provide a coolness to the body and treat and prevent infections. 
The Multi herb cleanser is a mixture of 21 herbs and essential oils including honey to provide complete care to all your skin needs!
All the soaps are prepared from natural ingredients, and have a gentle effect on your body with no harmful reactions. Gurukul Body Cleansers bring the goodness of Ayurveda and home remedies into your care routine!
Size: 75g each