Why Gurukul Ayurved Pharmacy
Traditional Process
Our products are made with years of experience and heritage. All our formulations are authentic and are vetted by some of the most educated and trusted Vaidya's of India. All our products are made with traditional processes to ensure authenticity.
Certified Manufacturer
Gurukul has a ayurvedic manufacturing license by Ayush Department of India, an FSSAI liscence and a GMP certificate
Value for Money
All gurukul products are made with nothing but the best. Here at gurukul, quality trumps everything. We source the best ingredients and employ the most effective processes to ensure that all our products are safe for you! Yet, we don't overcharge! We promise to get you quality products at a low cost.
Customer Speaks
I have been taking the Ayurvedic products of Gurukul Ayurvedic Pharmacy for a number of years and all the medicines being taken by me have tremendous effect. I have strong faith on the products of Gurukul Ayurved Pharmacy

Justice B.C. Kandpal
I have been buying Gurukul juices and sharbats for quite some time now. They never compromise on the quality and are always helpful.

Dr. Richa Arya
I have spent an entire lifetime in Ayurved and medicine but I haven't seen a product like Gurukul's Dardmukta. This product can change the industry has huge potential to relieve everyone's pain.

Dr Vinod Sharma
Gurukul's hair oil is a must try for everyone facing hair fall and texture issues. Only after 3 applications, I was able to see a notable difference.

Seema Pandey
NOTES BY DIGNITARIES
Throughout its lifetime, Gurukul has had the privilige of hosting various dignitaries and has successfully served some of the renowned names of India.
Our Accreditations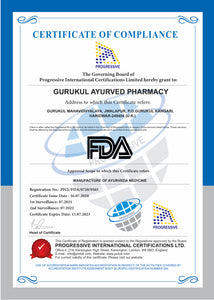 FDA Approval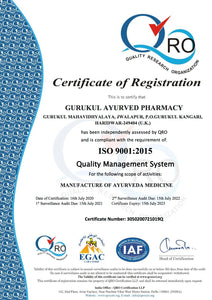 ISO 9001
WHO-GMP