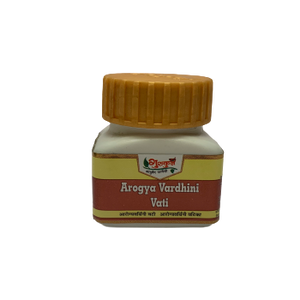 The word Aarogya stands for "good health" and Vardhini means "improver". Aarogya vardhini vati is used for treating a myriad of diseases mainly of the heart, liver, stomach, intestine, gall bladder, skin, teeth and gum.
By being a blood purifier, this tablet helps in a number of skin diseases. At the same time, it is a good solution for Dyspepsia, Diarrhoea, Vomiting and loss of appetite. Further, it has also been proven to be effective in treating jaundice, given its natural tendency to be good for liver. Overall, this natural tablet provides the complete formula for a healthier you.
How to Use:
For a normal dose, take 2 to 4 tablets (as per the disease) with water or milk. Alternatively, take as per physicians advice for best results.
Size - 20g.